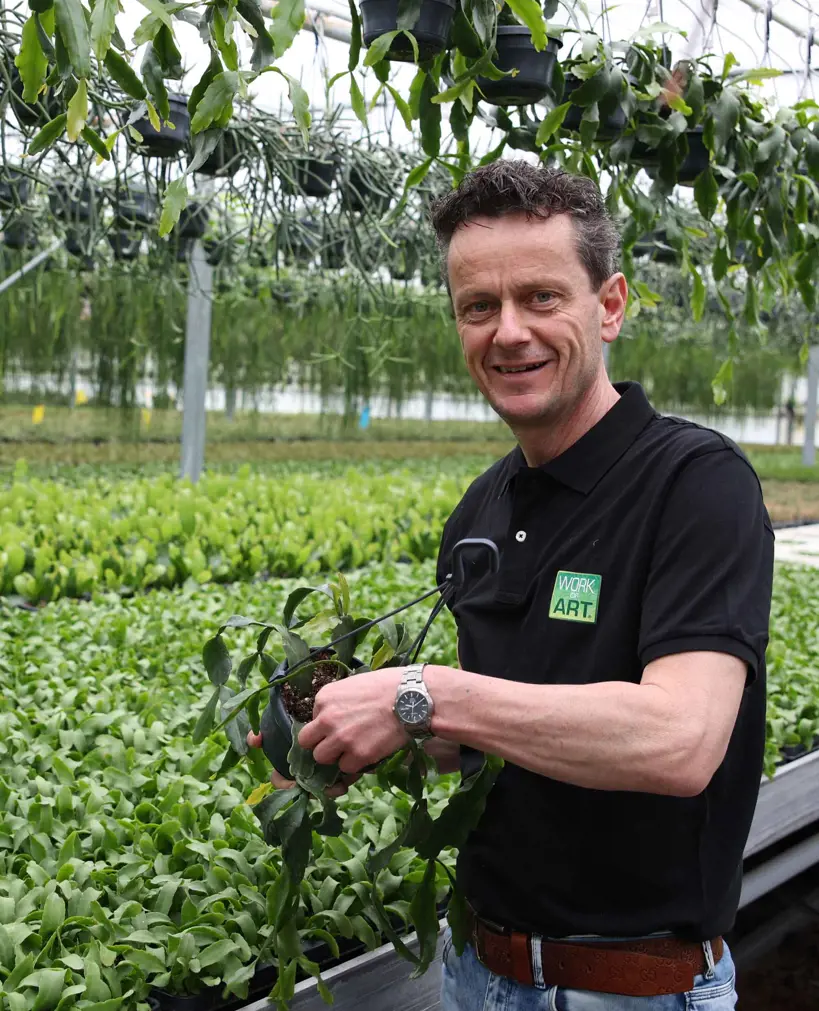 Grown with care and passion
Since 2015 Menno de Vries is the third owner of our nursery Van der Hoorn Succulents that had its origin in 1977. Each owner shared the same passion: succulents. This led to our specialization in growing and trading special species. Because we believe that all plants, our succulents in particular, are true works of art, we call our assortment Work of Art.
Grown big by staying small
Our nursery has a modest area of 9000 m2. With eight permanent employees who love plants and a permanent group of schoolchildren, we grow our succulents using traditional methods. The plants receive a lot of love and attention, nothing is automated. And that is reflected in our products! They are just that little bit different and of exceptional quality.
Do you see our quality succulents as a nice addition to your range? We would be happy to tell you more about our sales via Floriday!

Work at Van der Hoorn Succulents
Do you love plants and do you like our work method? Contact Menno for a job, there might be a perfect fit! 
Wide range: potted and hanging plants
With some 100 different species of succulents in house and a wide selection of hanging plants, our nursery has a wide assortment. For more than 40 years, hanging plants have occupied a special position within our range. Indeed, we not only go with the trend, but are steadfast in producing a very wide range of hanging succulents and cacti.
Environmentally friendly cultivation
We want to make as little impact as possible on the environment with our nursery. Therefore, we grow our plants in an environmentally friendly and sustainable manner. We have been reusing our water for 30 years. We use beneficial insects to control the harmful insects. And we grow our plants cool in the winter. This not only means we use less energy, but you also get stronger and more resilient plants. Win-win!
We are MPS-A and Global GAP certified. This means that we are innovative and sustainable, according to standards common in our industry.




"We are very active in innovating our products."
~ Menno de Vries
And that's why we can regularly come up with a new product on the market. Because we care about the environment, we are a member of Environmental Project Floriculture (MPS). For many years we have been an MPS-A certified company, which means that we grow according to the highest MPS requirements.